Double Vane pump VP-DF-20-20
Quick Details
Type:
variable double vane pump
Model Number:
VP-DF-20/20(VP-20/20-FA3)
BrandName:
ZF HYDRAULIC
Placeof Origin:
Guangdong,China (Mainland)
pressure range(front pump/rear pump):
50-70bar/50--701bar(kgf/cm2)
displacement:
20/20L/min
shaftkey:
parallelkey or spline shaft
shaftdiameter:
15.875mm
flangesize::
82.55mm
parallelkey spec.:
25mmlength, 3.96mm width
sauctionport diameter:
1/2"
deliveryport diameter:
3/8"
drainport diameter:
1/4"
weight:
9.0kg
parallel key Vane Type Double Hydraulic Pump VP-DF-20/20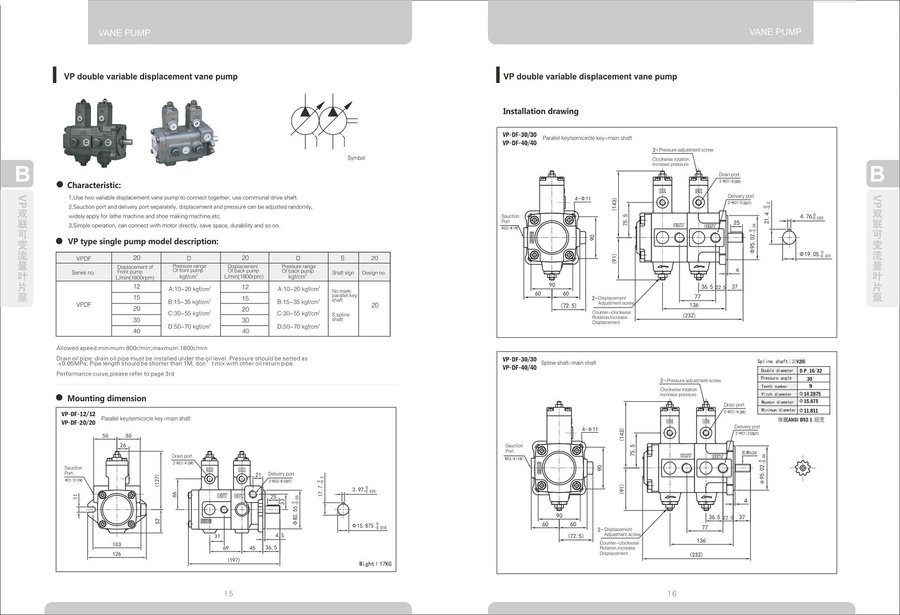 Characteristic:
1, use precision machiningtechnology, can automaticly adjust displacement and complement under settingpressure. decrease the loss of load power ,high efficiency , low temperature ,energy saving.
2, low noise, response promptly,high efficiency and steady operation.
3, simple structure, simpleoperation, easy to maintain.
4, include adjusting screw, canadjust the displacement and pressure randomly, widely apply for lathe machineand show making machine,etc.
5, long working life, steadystructure, small volume, can connect with motor directly, save space,durability and so on.


Our Services
Warrantyperiod: ONE YEAR
1,Withinone week after receipt of the goods, if customer use the products in correctmethod,and find any problem of performance or construction with obviousevidence,we will be responsible for replacement or other discussing solutionbetween us.
2,Butif customer using method are not correct, or customer disassemble our productsprivately,we will not responsible for any problem or defectivepoints of products.
3,If you meet any questions of installation or debugging, please inquiry usanytime, our Engineer will provide technical support in time, or we will helpyou to resolve the technical failure through online video.
4,Any damage from transportion, we will slove the problem according to theresponsibility standard of INCOTERMS.