VQ series double vane pump 2520VQ
How to order: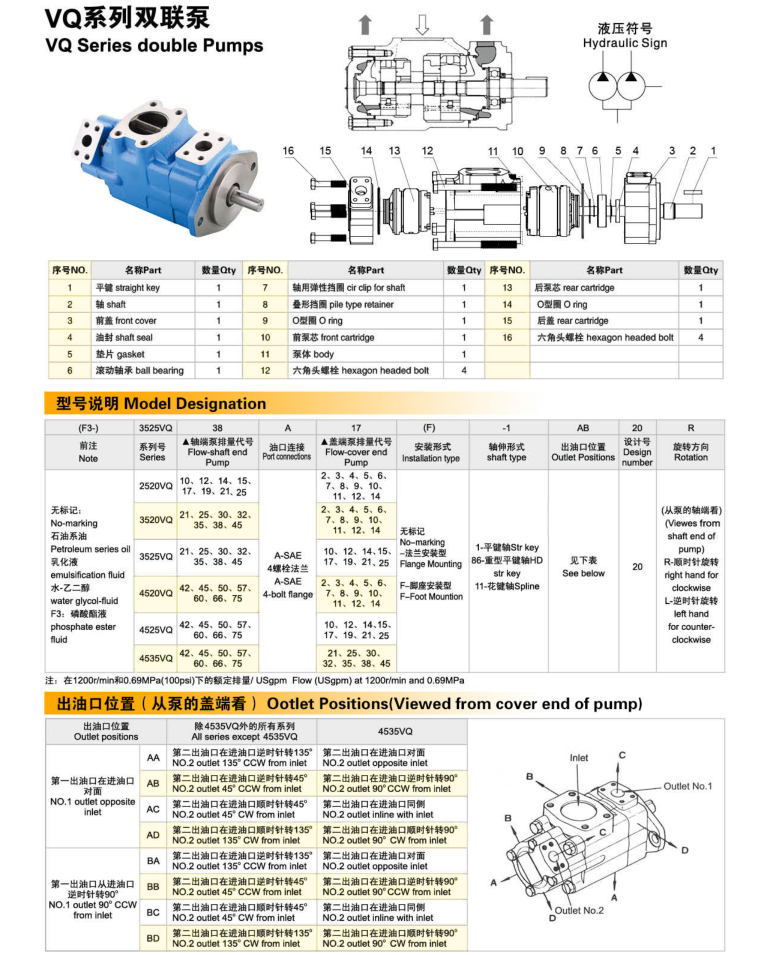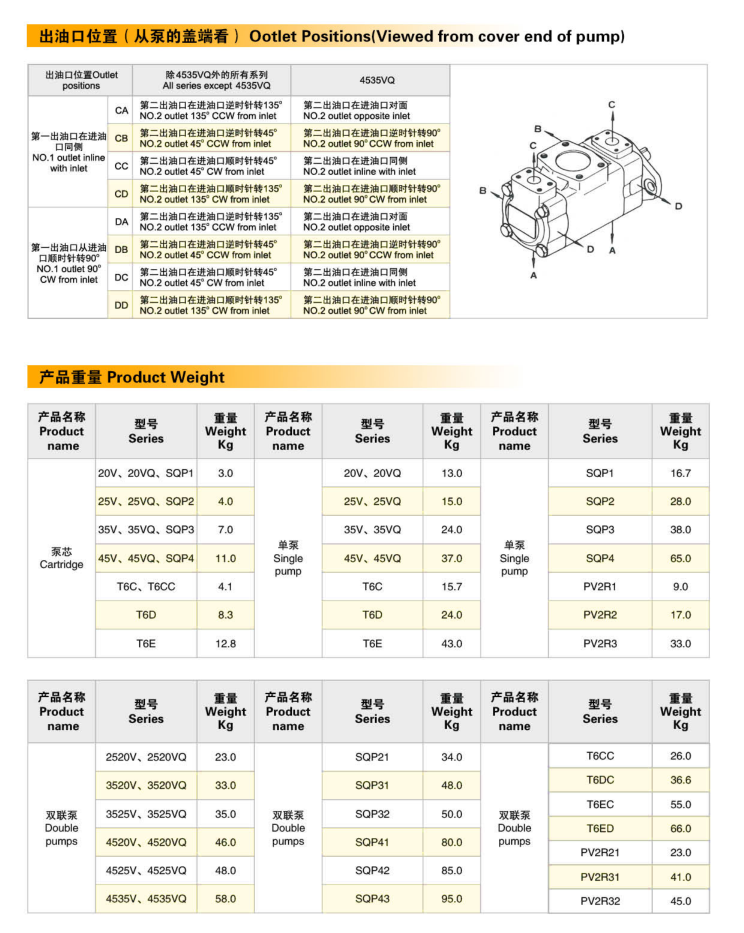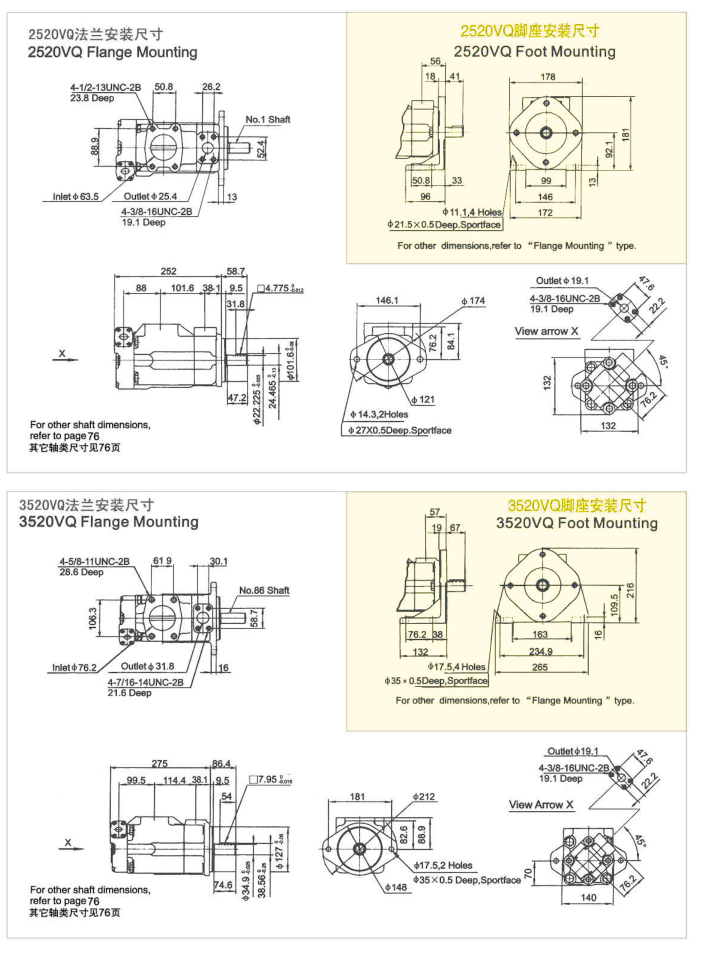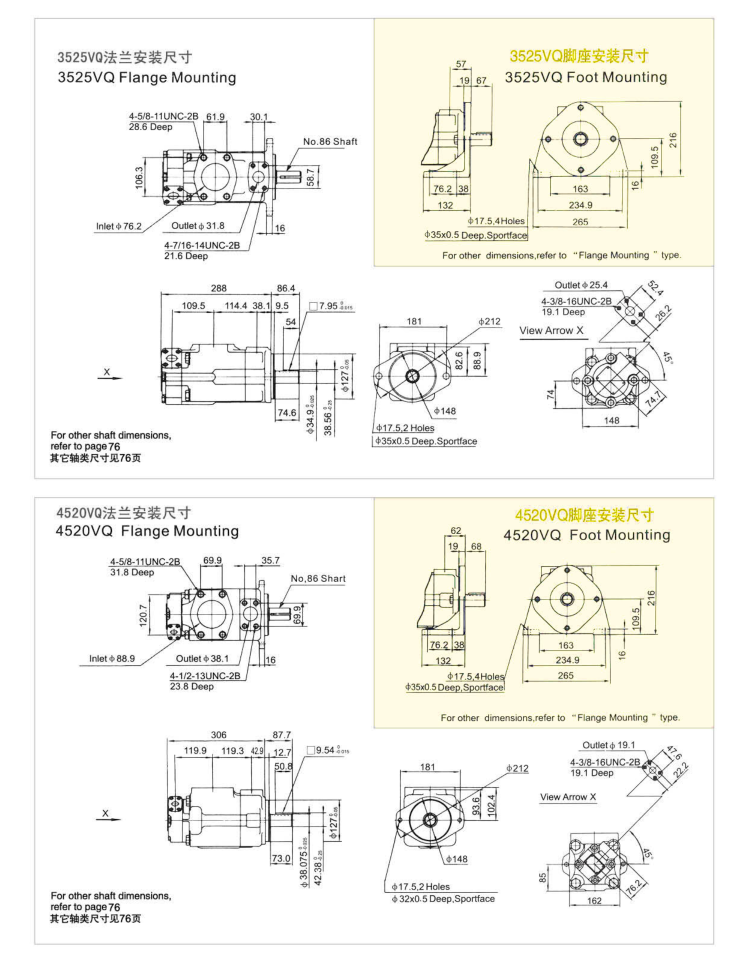 VQ series double
vane pump
other models: 2520VQ 3520VQ 3525VQ 4520VQ 4525VQ 4535VQ
VQ series double vane pump features:
1. The ability to achieve high working pressure in compact shape and size, ensuring high power to weight ratio and low installation cost.
2. The inherent low noise characteristics of the sub-blade mechanism can improve the comfort of operators.
3. Blade system ensures small amplitude of flow pulsation and low noise characteristics of the system.
4, designed to prevent internal induced shaft and bearing radial load of hydraulic balance to ensure long life.
5. Double pump and through shaft drive configurations save installation location and cost by eliminating double-shaft extension motors or by reducing the number of motors and driving couplings.
6. VICKERS vane single pump features and VICKERS vane pump through shaft drive provide valuable loop design flexibility, such as the realization of quantitative and variable type on a single input drive.
7, 16 kinds of flow displacement and the ability to achieve high working pressure for your flow and pressure requirements for the whole range of zui best choice and single source capacity.
8. The vane pump core kit tested by the factory provides the performance of the new pump after installation.
9. The structure of the movement kit can ensure rapid and efficient field maintenance. The movement is separated from the drive shaft, making it easy to change flow capacity and maintain without having to fold the pump off its base.
10. VICKERS vane single pump features and VICKERS vane pump inlet and outlet can be oriented into four different relative positions, providing great installation flexibility and facilitating machine design.
ZF Hydraulic single vane pump features and doulbe vane pumps:
This cost-effective vane pump provides volume efficiency of more than 90% and noise levels as low as 62dB(A) at 210 bar(3000 psi) operating pressure. Not only this product through the replacement of the vane pump movement can be repaired on the spot, greatly shorten the shutdown time, so as to improve production efficiency.
VICKERS vane pump common series:
Single pump: V10, V20, 20V, 25V, 35V, 45V, etc.
Double pump: 2520V, 3520V, 3525V, 4520V, 4525V, 4535V and so on.
Double
vane pump
other modes:
3525VQ-25A10-1CC-10R
3525VQ-25A12-1CC-10R
3525VQ-25A14-1CC-10R
3525VQ-25A17-1CC-10R
3525VQ-25A19-1CC-10R
3525VQ-30A10-1CC-10R
3525VQ-30A12-1CC-10R
3525VQ-30A14-1CC-10R
3525VQ-30A17-1CC-10R
3525VQ-30A19-1CC-10R
3525VQ-35A10-1CC-10R
3525VQ-35A12-1CC-10R
3525VQ-35A14-1CC-10R
3525VQ-35A17-1CC-10R
3525VQ-35A19-1CC-10R
3525VQ-38A10-1CC-10R
3525VQ-38A12-1CC-10R
3525VQ-38A14-1CC-10R
3525VQ-38A17-1CC-10R
3525VQ-38A19-1CC-10R
About after-sales service:
After the buyer receives the goods, the product cannot install or the specification is wrong or the quality question, this shop may provide the return goods or the replacement service, the return goods or the replacement goods buyer please guarantee the article intact and bears the round-trip freight. In order to avoid this kind of incident, please contact us before buying, if the buyer has physical reference is the best.
About freight:
Contact by phone to determine the price and freight. As a result of each area each express delivery charge standard is different, press actual circumstance to allow. Because a lot of products on hydraulic parts are more than a few kilograms or even hundreds of kilograms, so when you decide to buy and shoot, tell the customer service in advance how you want to deliver goods, such as express delivery or logistics, baby link marked freight is only the first weight! The actual freight is subject to the weight, quantity, delivery address and express logistics quotation of the goods. We will not charge you extra freight. Of course, we also support freight collect. Thank you!!!
About the invoice:
Shopping can issue VAT special invoice in our shop. If you need to issue the invoice, please contact the customer service to confirm the tax-inclusive price. All the prices we quoted are tax-free. Thank you for your cooperation!
In order to protect your interests, we remind you that when you receive the goods from the Courier, please be sure to open the package for inspection in person, and then sign for acceptance after confirming that the goods you have purchased are complete and accurate, or open the inspection in person after signing for acceptance. If you find the goods lost, damaged or inconsistent when opening the inspection, please refuse to sign for it and contact the local express company and us.
The company sells products with six months warranty, except for special maintenance parts. The products purchased within six months appear non-human problems, note: not modified, such as welding, disassembly, cutting, original return free maintenance or replacement! Non-quality problem, do not make return change, special reason asks to contact customer service to negotiate processing! We are at your service