BPA63DT piston Pump for JCB JS130 Excavator
How to order:
| | |
| --- | --- |
| Pump type: | BPA63DT |
| Application: | JCB JS130 excavator |
| Hydraulic control mode: | Negative flow control |
| Number of solenoid valve: | Single |
| Feature: | Non-Standard pump, adapted pump |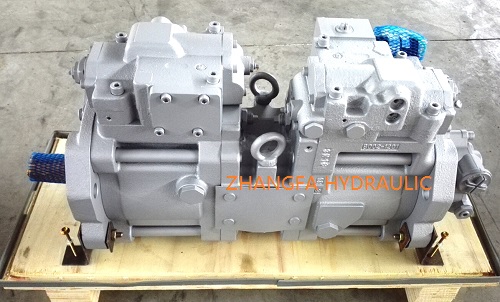 Sales tel: 0086-13509210189, QQ: 2542600020, wechat: 2542600020
Factory imported from our company is specialized in Volvo excavators accessories wholesale sales, the company combining with Sweden, Singapore accessories manufacturers, leave out all the intermediate links, directly imported from abroad, to provide you with high quality and low price of excavator original accessories, for a long time, my company to create an orderly and fair market environment and continuous efforts. In domestic engineering machinery after-sale market competitive today, our company combined with * * a new mode of management, grasp the pulse of the market, seize the opportunity, insist on quality is a product of competitors or cut cannot destroy the management idea, through the perfect technical service and quality products to create the new service standards, and through the strict management system to implement. The company ** sales, technical expertise, with rich professional experience and dedicated service of good style, in the body of the customer base to establish a good reputation, so that today can become China ** excavator parts business.
Applicable models: EC55B, EC60C, EC140, EC200, EC210, EC240, EC290, EC360, EC460, EC480, EC700, etc.
Main engine parts: four supporting, cylinder liner, piston ring, piston, piston pin, hydrosphere, overhaul, cylinder mattress, before and after the crankshaft oil seal, valve seal, diesel pumps, plunger matching parts, nozzle, monomer pump, crankshaft, cylinder block, cylinder head, valve, connecting rod, the size of the tile, thrust, camshaft, starter motor, generator, turbocharger, etc.;
Main hydraulic fittings series: hydraulic pump, multi-way valve, motor, rotary motor, medium walking arm oil cylinder, principal deputy overflow valve, pump, hydraulic pump controller, electromagnetic valve, skeleton oil seal, floating oil seal, slewing vertical shaft, rotary big gear ring, walking speed reducer, slewing reducer, level of the secondary level 3 walking frame, planetary gear, the sun gear, etc.;
Main electrical appliance series: computer board, display screen, operation handle, engine wiring harness, main and auxiliary wiring harness, generator, starter, wiper, wiper motor, relay, solenoid valve, sensor, etc.
Cab accessories: cab assembly, left door, right door, hood cover;
Since the establishment of the company has been to do only the original factory original accessories for the principle, do not sell a deputy factory pieces do not sell a piece of assembly, only do the original brand new pieces. Sell the brand, do is the service! At present, the company's sales area has covered the large and medium-sized cities throughout the country, welcome new and old customers come to visit!