Pressure switch Jufeng SER JCS-02N JCS-02H

Specificatin:



| | | | |
| --- | --- | --- | --- |
| Model | Rated pressure | Max pressure | Weight |
| JCS-02N | 20-210 kg/cm2 | 230 kg/cm2 | 1.0kg |
| JCS-02NL | 15-60 kg/cm2 | 230 kg/cm2 | 1.0kg |
| JCS-02NLL | 5-40 kg/cm2 | 60 kg/cm2 | 1.0kg |
| JCS-02H | 20-500 kg/cm2 | 600 kg/cm2 | 1.0kg |
| | |
| --- | --- |
| Max voltage/current | Min voltage/ current |
| 250V/3A 125V/5A | DC 24V/ 160 mA |

Outside size: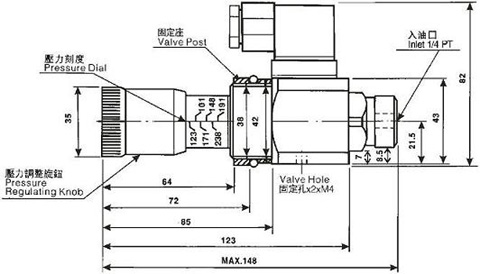 Pressure switch other models: Jufeng hydraulic pressure switch JCS-02H, Jufeng hydraulic pressure switch JCS-02N, pressure switch JCS-02NL, pressure switch JCS-02NLL, pressure switch JCD-02S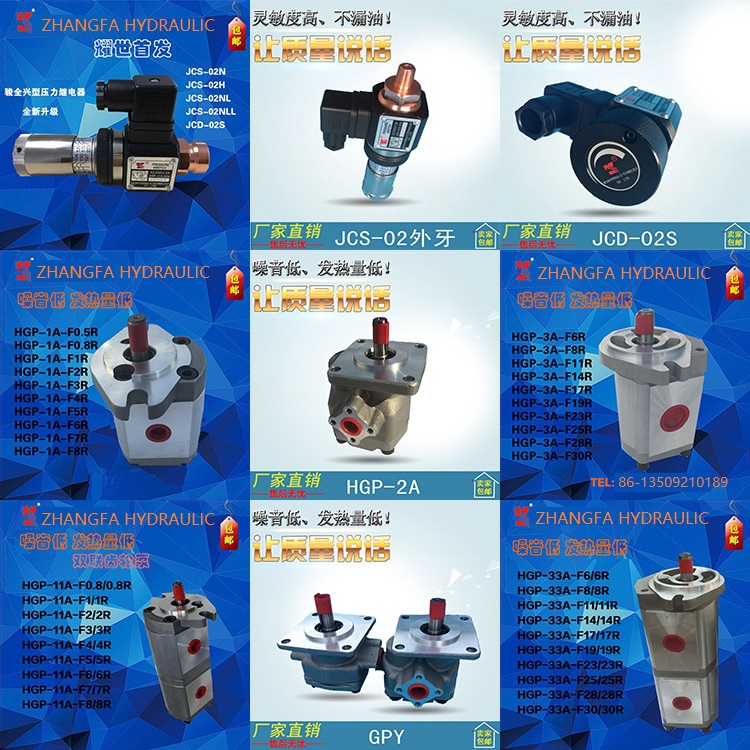 Product description: this pressure switch contains a micro switch, which can sense the pressure from the hydraulic system to convey the electrical signal, and give the electromagnetic directional valve or electric motor to change the direction of switching or to warn and close the circuit, so as to achieve the protection effect of the system.


ZHANGFA HYDRAULIC specializing in the production of pressure switch and other HYDRAULIC components lubrication components and oil component of the modern enterprise, the company has many advanced, sophisticated processing and testing equipment, including CNC lathe, machining center, three coordinate measuring instrument, special gear detector, automatic standard gear pump test-bed are introduced from Germany, Japan, the United States. At the same time, the company actively introduce advanced technology and management at home and abroad, with a complete and scientific quality management system. Since its inception, the company has been active in the domestic and foreign hydraulic, lubrication and transportation industry related products applications. The products are widely used in automobile, light industry, engineering machinery, plastic machinery, shoe leather machinery, die-casting machinery, metallurgy machinery, mining machinery, woodworking machinery, metal cutting machine tools and other kinds of hydraulic systems. With high efficiency, strong, durable, reliable, stable and other excellent performance. Strong technical force, professional quality control personnel; The quality of our products is stable, the quality is reliable, and the after-sales service is thoughtful. Choosing ZHANGFA HYDRAULIC products is the right choice for you. In the past 25 years,ZHANGFA HYDRAULIC has focused on the research and development and production of HYDRAULIC pressure switch, gear pump and lubricating gear pump. Customized all kinds of gear pump can be matched with hydraulic equipment manufacturers production, according to the actual needs of customers tailored gear pump. Welcome new and old customers to call sample to figure consulting! ZHANGFA HYDRAULIC people remember "makes the HYDRAULIC product standard" mission, practicing "fulfill customer value" the purpose, adhere to the "integrity responsibility diligence" gratitude beliefs, all work adhere to the customer as the center, take customer satisfaction as the purpose, efforts to research and development to make more high quality HYDRAULIC products, attractive for the customer creation value, and friends from all walks of life hand in hand, create brilliance!
Company business philosophy: excellence, continuous improvement, the pursuit of excellence company quality policy: customer first, quality first, innovative development!
Product name: rexroth piston type pressure switch electro-hydraulic control brand: rexroth model: hed80a-20 350K14 pressure switch, origin: Germany processing custom: no Hydraulic control type of plunger type pressure switches series HED 8 components series 2X maximum working pressure 630 barCE, CCC, UL -- for floor mounting/line mounting -- for flange connection, up to ISO 16873 -- as vertical stack element, connected to stack valve plate, up to ISO 4401 -- 5 pressure classes -- 4 regulator element types , with or without protective cap adjustment rod, A scale adjustment lever, with or without protective cap, with calibration knob, A scale can lock knob - electrical connection, with large square connector, bring M12 x 1 connector - micro switch, with the function of normally closed/normally open contacts - current zero potential switch (1 mA to 2 A) - pressure range through the UL certification, up to 350 bar (1) used for vertical stack of superposition valve plate, A separate order, please refer to the "attachment" 2) does not allow for vertical stack, without low temperature seal, Without UL 3) plug, a separate order, please refer to the "attachment", 4) H key R900008158 materials, included within the scope of delivery. 5) only use the pressure gauge (scale used to indicate a role) to accurately set pressure switch function, cross section, symbol HED 8 types of hydraulic - electric pressure switch is piston type pressure switch. Their basic components are the housing, mounting kit with plunger, compression spring, adjusting element and micro switch. If the pressure to be monitored is below the set value, operate the micro switch. The pressure to be monitored is transmitted to the plunger through the orifice. The plunger is supported by the spring seat and overcomes the changing force of the compression spring. The spring seat transmits the movement of the plunger to the micro-switch and releases the pressure of the latter when the setting pressure is reached. This will open or close the circuit, depending on the circuit Settings. The mechanical front block of the spring seat can protect the micro switch from mechanical damage and prevent the compression of the spring under the condition of sudden decrease of pressure and over pressure. Note: to extend the service life, the pressure switch should be installed with small vibration to protect it from hydraulic impact. Technical data (for applications other than these parameters, be sure to consult us!) General information weight kg 0.8 installation position any ambient temperature range -- 25 to +50 (NBR seals) -- 20 to +50 (FKM seals) -- 40 to +50 (cryogenic seals) 2000hz, Max. 10g, 10x period transport shock DIN EN 60068-2-27 1995-03 15 g / 11 ms shock test DIN EN 60068-2-29 1995-03 25 g / 6 ms noise test DIN EN 60068-2-64:1996-05 20... DIN EN 61058-1: 2008-09-05 IEC 60947-5-1: 2010-04 DIN EN 60529: 2000-09 UL UL 508, 17th edition E223220 CCC EN 61058-1:1993 IEC 60947-5-1 hydraulic pressure classes - bar 50 100 200 350 630 maximum working pressure NBR/FKM seals 50 10... 100 15... 200 25... 350 40... 630 pressure difference per revolution 1) bar 19 35 77 120 214 hydraulic oil conforms to mineral oil (HL, HLP) 2 specified in DIN 51524; Fast biodegradable hydraulic oil with VDMA 24568 (also see RC 90221); HETG (rapeseed oil) 2); HEPG (poly yi alcohol) 3); HEES (synthetic ester) 3); HVLP 4); HFC (5); Should be required to provide other hydraulic oil hydraulic oil temperature range ° C - 25 to + 80 (applicable to NBR seals) -- 20 to 40 + 80 (applicable to FKM seals) - to + 80 (low temperature seal) viscosity range was/s (10 to 800 the maximum allowable pollution of hydraulic oil to meet the requirements of ISO 4406 (C) cleanliness grade level 20/18/15 6) load cycle number 5 million or higher) direction of rotation: -- clockwise -- setting pressure increase -- counterclockwise -- setting pressure decrease 2) for NBR seals and FKM seals 3) only for FKM seals 4) for low temperature seals 5) only for NBR seals technical data (for applications other than these parameters, please be sure to consult us!) Electrical connection/plug K14 EN 175301-803, 3-pole + PEK35 IEC 61076-2-101, M12 x 1, code A, 4-pole protection class in accordance with EN 60529 K14 IP 65, plug K35 IP 67 installed and locked, Installed and locking plug maximum switching frequency of 1 / h 7200 conversion accuracy (repeatability) < setting pressure switch plus or minus 1% accord with VDE/DIN EN 61058-1 0630-1 transition resistance m Ω < 50 insulation coordination overvoltage category 3 pollution pollution bounce time ms < 5 off 3 ms < 5 minimum current mA when the 24 V dc 1.0 maximum current induced current when A 50 V dc 0.5125 V dc induced current is induced current for 0.2250 V dc The induction current at 0.1250v ac is 2.0. For more hydraulic pressure switches, pls visite our website: www.hydromax.online